---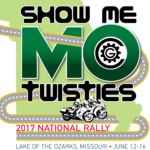 Hello COG Nation:
My name is Gary Mazzola and along with Kevin Gleason we are the 2017 "Show Me MO Twisties" National Rally coordinators. Our rally goals are to emphasize great days of riding and offer activities for you to relax and have fun. Kevin and I are ready to accept this challenge and confident you will enjoy your week at the rally.
We selected Lodge of Four Seasons Resort as our Rally Central Headquarters. The Lodge has room for everything on-site including a private campground one mile from Rally HQ. All meeting spaces including the Thursday evening banquet will be indoors and air conditioned. We will have plenty of room in very nice surroundings. Please take a moment to view the video and read the brochure to learn more about the facility. Information is posted on the website outlining the process to book your room reservation at the Lodge Resort. This is an outstanding venue and I urge you to book your room at the Lodge. If however you are not interested in the additional amenities provided at the Lodge of Four Seasons, I am working to provide you the name of another motel. You are also welcome to book your reservations at any location of your choice. There are many choices in the area, but please be careful where you book. Like anywhere, some places are not as they are advertised. In either case you will be on your own to shop room rates and make those reservations. The Lodge of Four Seasons is located at: 315 Four Seasons Dr., Lake Ozark, Missouri 65049.
We also have exclusive access to a private campground. We have rented the full campground in advance so you will pay your camping fee directly to COG. Information on the campground and registration process will be forthcoming.
We are working on activities that will make your 2017 "Show Me MO Twisties" Rally a memorable and rewarding experience. You can expect us to provide a few different activities from past nationals, however you should also count on an opening social event for Monday night, the traditional ice cream social Wednesday evening and our Thursday evening banquet. More to come as the committee investigates all our options.
Please be patient with your desire for additional information. I am currently working to assemble our full rally team. We will post information in each area of interest as plans are made and confirmed. Please continue to check the website (www.concours.org) for new information as it becomes available. If for any reason you have a critical need for assistance in your planning, you can reach us at: cog2017national@gmail.com. We will do our very best to respond as soon as possible.
I am so pleased to begin our work. On behalf of myself, Kevin and the entire rally team we want to meet you at the 2017 "Show Me MO Twisties" COG National Rally.
Best Wishes, GARY MAZZOLA