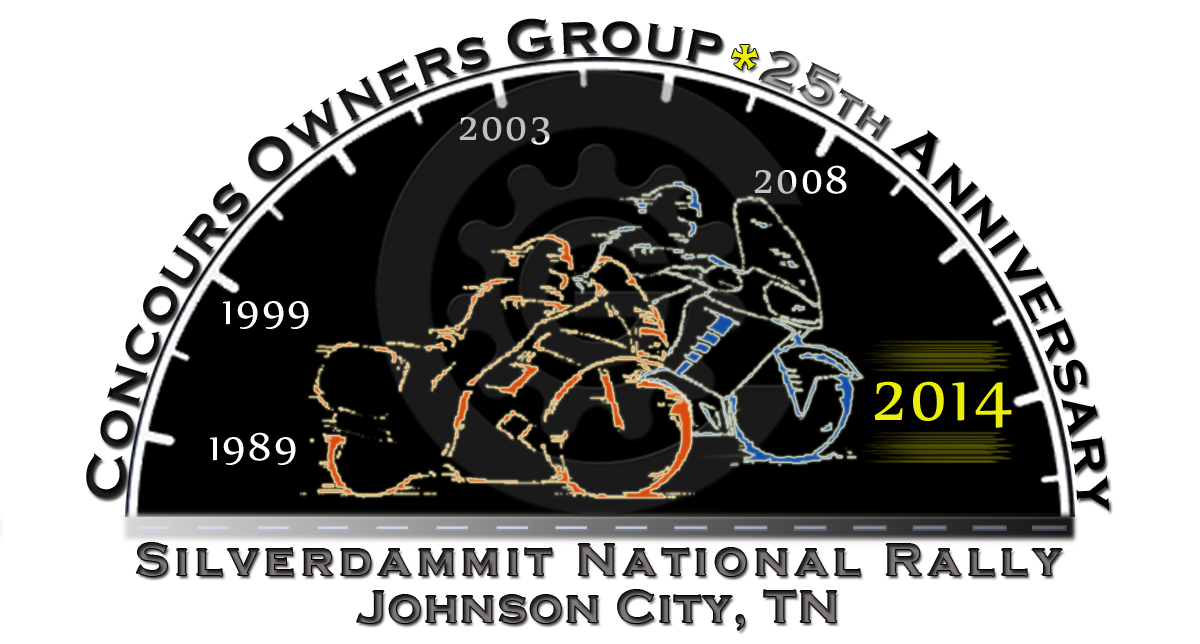 ---
The Concours Owners Group (COG) will host the 2014 "Silverdammit" National Rally the week of June 16-20, 2014 in Johnson City, Tennessee. The rally marks the celebration of the group's 25th anniversary, and will include many social activities, information seminars, guest speakers, technical sessions, and a banquet dinner.
Rally News & Updates
2014 May 16 update:
Kawasaki Demo Ride Dates Set!
Demo rides will be available to rally attendees on June 18 & 19, 
 9
:00am – 4:30pm
 each day. Sign-up opens at 
8:00am
 each day, first come, first serve. Demo riders will be able to choose from either a sport bike or a cruiser bike for a particular group going out.
 During the demo rides, guides will lead you along a ride route designed to give riders the best experience possible. Safety and enjoyment of the demo riders is the number one priority.  Rider Requirements: Riders must have a valid motorcycle license and proper riding gear. Helmet*, eye protection, closed toe shoes and long pants are required. Jacket or long sleeve shirt and over the ankle boots are recommended. Rider and passenger (if applicable) must sign waiver form. Passenger must be at least 16 years of age. 
*DOT approved Helmet is required and not provided.
KMC reserves the right to amend the event schedule as circumstances may warrant.
2014 May 16 update:
Kingsport Cycle Is Preferred Local Dealer
Kingsport Cycle /  Bubba's Bike Barn have come on board to be the Silverdammit Rally Preferred Dealer and offering special to rally attendees. On Wednesday 6/18/2014 11:30-1:00 an OPEN HOUSE will be held at the Bubba's Bike Barn Location in Kingsport, TN. FREE Hot Dogs, Chips & Soft Drinks. They are also offering these services:
25% Discount off any In-store purchases
10% off any special ordered items
Free Mounting of any In-Stock Tire Purchases
Free pick-up (within 50 miles) of Broken Down Motorcycles ($1.00 per mile over 50 miles, one way mileage)
COG Special Low Price on ALL bikes (new and used) Only Invoice + $500 to Attendees. Yes, you can demo many of our new and used bikes.
Read their flyer for complete details
2014 March update:
BIG NEWS FOR THE NATIONAL !!
The Silverdammit National planning committee has just received confirmation from Kawasaki that both the ROK truck and the Kawasaki Demo truck will be at the National.  Final plans are not yet complete as to what days they will be there but they will be there.  The Planning Committee has negotiated with ROK and Kawasaki for several months to get them to attend and we were successful! Kawasaki has agreed to supply two bikes for the OtP travelers.  Again final plans are in the works, but it looks like the travellers will arrive at and depart from Nebraska to pick up loaners. The Planning Committee has received final confirmation from our guest speakers.  Our Keynote Speaker is Perry King, star of both the big and small screens.  Perry starred in the hit t.v. series Riptide and along side John Travolta and Sylvester Stalone in The Lords of Flatbush .  More importantly Perry is an avid motorcyclist owning approximately 29 motorcycles.  Perry is also a member of the AMA Board of Directors – representing the Northwest Region.  Perry is the consummate story teller and has ridden with many motorcycling celebrities. Rob Dingman, CEO & President of AMA will join us at the Opening Social to meet and greet everyone and tell us a little about the FIM. Maggie McNally, Chairman of the AMA Board of Directors has agreed to be part of the Women's program and will be at the Wednesday morning Breakfast. The ladies' involvement has been becoming more prominent at COG functions. In addition to Maggie, Sue Slate and Terri Conrad from Kawasaki/ROK will also be on hand. Read a quick bio on the ladies here. The team is presently working out details to offer a MSF Advanced RiderCourse (ARC) through a local rider education provider. The details we have are posted here.
2013 September press release:
Special Thanks
COG & the rally team wants to thank member Kendra Weaver for her efforts in creating the speedo rally web graphic.
2013 August press release:
Concours Owners Group 25th Anniversary "SilverDammit" National Rally
June 16-20, 2014 – Johnson City, TN The Concours Owners Group (COG) will host the 2014 "Silverdammit" National Rally the week of June 16-20, 2014 in Johnson City, Tennessee. The rally marks the celebration of the group's 25th anniversary, and will include many social activities, information seminars, guest speakers, technical sessions, and a banquet dinner. For over a decade COG and its European sibling, GTR Club Europe (GCE) pull off a remarkable effort called "Over the Pond" (OtP). This is where a lucky rider is selected by their peers to attend the foreign rally as the OtP Traveler. Alternating years the OtP Traveler is selected from the U.S.A. or EU. This year two lucky members from the EU will travel to the "Silverdammit" National Rally. This covert operation is funded by member pledged donations to assist the OtP traveler's expenses. Normally a Concours is provided to the traveler in the host country by a fellow member, however, the past few years Kawasaki has generously provided a Concours 14 for use by the OtP Traveler during their visit to the host country. The Silverdammit Rally is the namesake of a term affectionately used among owners that they felt best described the color of the first U.S. production Concours in 1986. Kawasaki's official color name was "Pearl Gentry Gray". However, the running inside joke one member started was "…it's not gray, it's silverdammit!!" Johnson City is a perfect venue to celebrate COG's big event. Conveniently located in the foothills of the Appalachian Mountains, Johnson City is a very motorcycle friendly community, and the surrounding region offers some great riding. The twisty, scenic mountain roads surrounding Johnson City is sure to please sport-touring and other riding enthusiasts. Johnson City Convention & Visitors Bureau maintains the "Southern Dozen" web site that promotes a "series of 12 of the South's greatest motorcycle rides that start and end in Johnson City, taking riders to historic sites, unique caverns, famous music venues, wolf habitats and more." Additional self-guided rides will be planned, including a dual sport ride. The Holiday Inn of Johnson City has been selected to serve as the rally headquarters. There will also be nearby tent and RV camping available to rally attendees. The rally area offers many nearby tourist attractions for attendees to enjoy.  The rally team has been working on this event since summer 2011. Bob Dombrowe, the rally committee chairperson, says "we are working diligently to make this the biggest and best COG National Rally ever."   Here is the video presentation made to attendees of the 2013 National Rally in Idaho Falls: http://www.youtube.com/watch?v=h-3BGnvhQ4Y
 Rally Questions: COGNational2014@cog-online.org