HOME
REGISTRATION
LODGING
CAMPING
ATTRACTIONS
RIDING
SPONSORS
SCHEDULE
RALLY TEAM
---
There is terrific riding in all directions around Williamsport, and this is why COG Northeast has been visiting this region for many regional rallies and rides for more than 20 years. Many ride routes were created over the years and we have selected some of the best for this National Rally.
If you would like to get a Pennsylvania State Road Map, PennDOT will send up to 4 maps free to individuals. Complete this downloadable Order Form and submit. Request the quantity desired (up to 4) and choose map MTT. You do not need to provide any payment info and you will have the maps in the mail a week or so later.
For the 2016 spring regional rally, Wayne Geiser was kind enough to convert many of the Wellsboro rides to begin and end in Williamsport. Several of these rides are based on his original GPS work. In preparation of the national rally COG members Greg Mitchell and Steve Smith revamped and recycled many of these terrific ride loops to provide different ride lengths and enough diversity to experience the scenery and roads of the area. Greg created the route sheets and summary descriptions, as well as test rode the routes via Google maps.
The GPS files (GPX format) are available from the COG Member Library – Click here to download GPX files.
There will only be a limited number of route sheet copies available at the rally.
Printable Ride Route sheets are available from the member library – Click here to download.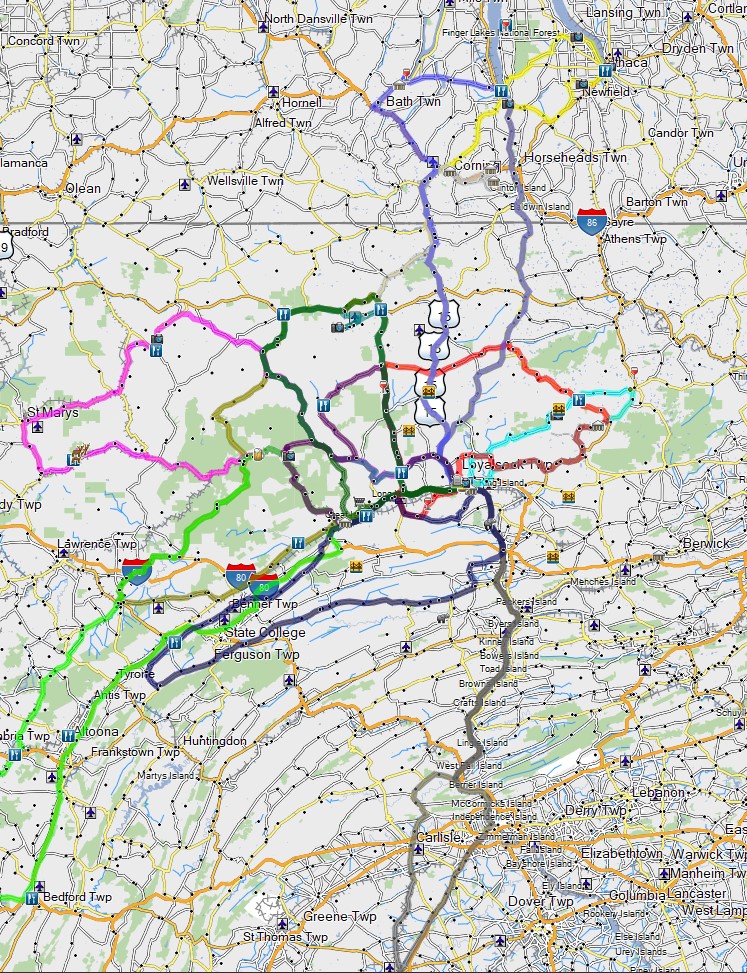 Use these descriptions to whet you appetite for the rally area riding…
Eagles Mere Museum and Forksville General Store Loop (102)
A short ride up to Eagle's Mere via Hwys 87, 864, 220, and 42. After touring the Auto & Air Museum, head on up to Forksville General Store for a bite to eat. Hwy 87 most of the way back with a section along Loyalsock Creek.
Elk Herd Loop (266)
Slab it west to Hwy 120 and follow the west Branch of the Susquehanna upstream to Driftwood. Then Hwy 555 west to several Elk Viewing Areas in Benezette. Actually, the chance of seeing elk during the day is limited. The best times are the early hours before they bed down for the day or in the evening when they get up to start feeding. After, continue west and north to St Mary's. Then northeast up to Hwy 6 (Grand Army of the Republic Hwy) outside Coudersport. Hwy 44 brings you most of the way back to Rally Central.
Possible Lunch stops: A few restaurants are located right in Benezette: Benezett Hotel Restaurant, Old Bull Café and Benezette Store and Restaurant.
Glenn Curtiss and Bully Hill Winery (226)
Run up mostly two lane highway and interstate into neighboring New York. The Glenn H. Curtiss Museum and nearby Bully Hill Vineyards are at the head of Keuka Lake, one of the Finger Lakes. Curtiss was an aviation pioneer and motorcycle manufacturer. The museum includes a sizable collection of early aircraft. Then head east over to the and home of the famous road track in Watkins Glenn. Then a straight shot back "home", mostly on Hwy 14.
Possible Lunch stops: There is a restaurant at Bully Hill Vineyards.
Finger Lakes Parks (260)
This route stops at a number of parks and waterfalls near the southern end of New York's finger lakes. It includes Shequagua Falls (in the town of Montour Falls, NY), Lucifer Falls (in Robert H. Tremen State Park), Ithaca Falls (just north of Ithaca, NY), and Taughannock Falls (in the State Park of the same name).
Possible lunch stops are Saigon Kitchen or the State Diner in Ithaca, NY, both on W. State St, and Rooster Fish Brewing Pub or Nickel's Pit BBQ in Watkins Glen, NY.
Flight 93 Memorial (353)
This sample route will be a very full day. If you haven't visited, it is recommended. The route can be shortened by substituting more highway.
Possible lunch stop is Jean Bonnet Tavern (in Bedford PA)
Gettysburg (249)
Check out the Gettysburg National Military Park Museum and Visitor Center to begin your visit to the historic battlefield. You'll find information on how to visit the park and what to see around Gettysburg. This will be a long day trip to ride there and experience the park.
Possible lunch stops in Gettysburg – there are many other choices. Here are a couple: Hunt's Battlefield Fries & Café or Garryowen Irish Pub, both within a couple miles of the Park.
Forksville General Store (161)
This route takes roughly an hour and 30 minutes to get to the Forksville General Store (in case you'd like to head there for breakfast). The route also includes both the Oregon Hill and Bastress Mountain wineries. Route Highlights: Hwy 864, 154, Route 144, 414 and 287.
Possible breakfast / lunch stops: Forksville General Store.
Glass & Wings Loop (200)
Another loop into southern New York, this route includes stops at the Corning Museum of Glass, the National Soaring Museum (i.e. gliders), and the Wings of Eagles Discovery Center.
Possible lunch stops: Slammin Jammin BBQ is 0.5 mile across the river from the Corning Museum parking lot. If BBQ is not your style, there a bunch of other restaurants on the same street, E. Market St. For example Aniello's Pizzeria is right across the street.
Hyner View Lunch Ride (145)
Hyner Overlook provides an excellent view of the West Branch of the Susquehanna River and the surrounding Sproul State Forest. The sample route to get there via Hwys 287 and 44 is a plus.
A possible lunch stop is the Wolfe's General Store in Slate Run. Grab a sandwich to go to eat atop Hyner View State Park.
State College (188)
Named Happy Valley, State College is home to Penn State University. Hwy 550 on the way down is a highlight.
Possible lunch stops include Restless Oaks Restaurant (in McElhattan, PA) and many restaurants in downtown State College.
Best Loop in the State (248)
There are no stops built into this route, but you will be traveling near to the Woolrich Outlet, the Piper Aviation Museum, and the Oregon Hill Winery. Even the Hyner View Overlook is not far off the route. Decent roads in Hwys 287 and 144.
Possible lunch stops include Restless Oaks Restaurant (in McElhattan, PA), Sportsman Hotel (in Renovo, PA), Brick House Deli (in Galeton, PA), and the Wellsboro Diner (in Wellsboro, PA).
Woolrich-Wellsboro Loop (161)
Pick up some classic Woolrich clothing at their outlet store in the town of the same name. After, ride Hwy 644,44 and 6 up to Wellsboro and Hwy 287 back south.
Possible lunch stops include Brick House Deli (in Galeton, PA), the Wellsboro Diner (in Wellsboro, PA), and the Forksville General Store (in Forksville, PA).
Grand Canyon of PA (166)
Pretty impressive views. Pine Creek Gorge stretches for over 45 miles with depths of nearly 1500 feet. The sample route leads directly to the East Rim and the Leonard Harrison State Park Visitor Center from Galeton. Optional routes to the West Rim, either from Galeton or the East Rim are also included.
Possible lunch stops include Waltz Creamery and Farm House Cafe (in Salladasburg, PA), Brick House Deli (in Galeton, PA), the Wellsboro Diner (in Wellsboro, PA).
---
More Williamsport Ride Ideas
If you are wish to seek out more possible ride ideas, check out the rides from the 2017 Williamsport Trip by New England Riders.
---
Getting your Bike Serviced at the Rally
If you will be in need of servicing your bike while at the rally, the local dealer Wheels of Williamsport has offered to give rally attendees priority service.