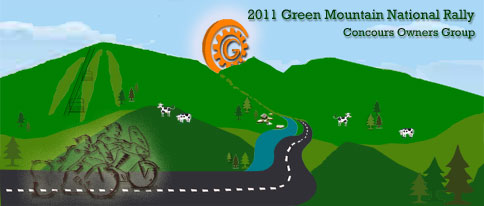 Monday, August 8 – 12, 2011
Mount Snow Resort, West Dover, VT
---
The 2011 COG "Green Mountain" National Rally was a huge success. The weather cooperated nicely, and Mount Snow was a great facility.  The area riding and attractions were almost perfect (barring a few frost heaves) and the locals were extremely friendly.  The rally web pages contain some of the remnants of the event as we present the rally in review.
Located in southern Vermont, West Dover offers a riding radius that allows visitors to ride in 7 states and Canada.
The Rally HQ was  the Grand Summit Hotel, but we also utilized Snow Lake Lodge, several condos, and campers set up around Sundance base lodge.
---
Riding & Tourism Around Southern Vermont…
Check out the rally 2011 COG NATIONAL RALLY RIDING web page:
Here you can find:
Sample ride loops and GPS files from the rally

Information about riding in Vermont, New England and upstate New York
---
shared photos from the rally
Here are links to photos by some of our attendees...  (these links may stop working without notice – they are controlled by the owner)
---
Checking in on the OtP Travelers
Bernd & Gie…

This was the 10th year of "Over the Pond" program with travelers Bernd from Germany and Gie from Belgium. Gie kept a blog of their travels to America. You can see it here:  http://gie.lambeir.be/
---
Hurricane Irene…
On August 28, Hurricane Irene hit the northeast as a tropical storm that left extensive flood and wind damage along its path. Along with many other area in the northeast, the rally area of southern Vermont was devastated. Almost every river and stream in Vermont flooded, resulting in at least three deaths and one missing.One of them was a young lady who worked as a housekeeper at Snow Lake Lodge, who drowned last Sunday afternoon. She was from Macedonia and was at the hotel on a cultural exchange program with her boyfriend, who also worked at the hotel. In Wilmington, the flood level of the Deerfield River east branch reportedly exceeded levels measured during the 1938 New England hurricane.Dot's Restaurant and many other businesses there were hit hard. Throughout Vermont, numerous covered bridges, many over 100 years old, were damaged or destroyed.Extensive road damage resulted in the isolation of nearly a dozen rural towns.
If you want to assist the relief efforts  here is a link for the American Red Cross: american.redcross.org
And here is a Vermont specific site:
governor.vermont.gov/blog-donate-vermont-irene
---