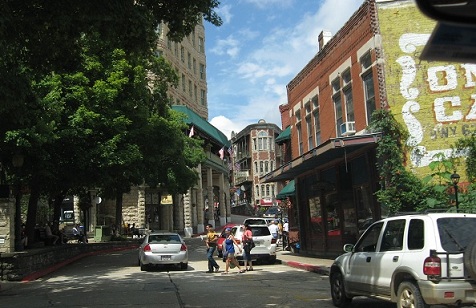 There are many attractions in the National rally area. Here is a listing of a few and more will be added. Give us feedback on the forum or email about attractions in the area. To be honest I have not been to any of these attractions except the roads. When I am in the area I am riding. Good reason to take the entire week off so you can enjoy some of these great attractions.
Order a free vacation planning guide from Arkansas.com.  This package is so huge I did not want to weigh down your rally pack with one in each so if you are interested in this multi book guide and map pack then visit the link below.
http://www.arkansas.com/travel-tools/vacation-kit/
Order a Eureka Springs visitors guide from the chamber of commerce.
——————————
Close by Attractions:
Pig Trail Scenic Byway Ar23 running south from Eureka Springs is a rugged forest trail though tunnels of forest covered back roads. The meandering nature of the route reminds visitors of a trail carved in the woods from wild pigs
Boston Mountains Scenic Drive 45 mile long road offers impressive mountain vistas, along the way are small mountain towns and roadside farms.
Cosmic Cavern  One of the Ozarks prettiest caves. View two underground lakes, one with trout.
Eureka Springs Historical District Tours Experienced local guide on open-air tram. Park your car and let someone else do the driving.
Turpentine Creek Wildlife Refuge  This animal shelter houses over 110 large cats – tigers, lions, leopards, cougars, bobcats, etc.
Bear Mountain Riding Stables & Dude Ranch  We have the best and most extensive trail riding on the west side of Eureka Springs.
The Queen Anne Mansion House Museum  The Queen Anne Mansion Museum is a premier destination for the finest in Queen Anne style architecture and 19th century decorative and cultural arts.
The New Great Passion Play  Celebrating 40 years of family entertainment, America's #1 attended outdoor drama.
New Holy Land Tour  Located on the grounds of The New Great Passion Play, the New Holy Land Tour offers a real-world glimpse into ancient Biblical times
Thorncrown Chapel  A 48 foot tall glass structure with 425 windows and over 6,000 square feet of glass.
Belle of the Ozarks  12-mile cruise on Beaver Lake.
Crystal Bridges Museum.  Helen Walton has bankrolled an impressive art museum in Bentonville.  It's just under an hours ride from Eureka and well here is the link that gives you all the details.
————————-
---
Attractions a bit further:
Branson Missouri  Known as the "Live Music Show Capital of the World.
Don't overlook Branson, Mo. for entertainment.  It is only 40 miles away from rally central.  It has a large variety of attractions to numberus to list here.  Everything from the famous live shows to water parks to Ripley's Believe It or Not Museum.  Here is just one of many web sites with listings of attraction.
www.bransontourismcenter.com
Petit Jean State Park  Come discover this legendary Arkansas state park and find out the secret.  150 miles hard to forget away.  While you are there check out the…
Auto Museum.  http://museumofautos.com/
The Talimena Scenic Drive  Scenic Byway offering 54 miles of spectacular views and incredible scenery.  170 mountain miles away.  An all day turn fest at 450 miles both ways.  I dare ya.
Mount Nebo  Rising 1,350 feet, Mount Nebo offers sweeping views of the Arkansas River Valley. 130 miles of great roads there and a fun road over the mountain.
Push Mountain Road  While leaning in and out of hundreds of turns on the 30 odd mile road you will pass through three mountainsides 105mi away.
—————————————-
Most data taken from these links:
http://www.eurekaspringschamber.com/
More cool links
http://en.wikipedia.org/wiki/Eureka_Springs,_Arkansas
Neat suspension bridge in the area.